Common Types of Bicycle Accidents
Dedicated Representation for Injured Cyclists & Their Families
For many, bicycles are more than just a way to get from point A to point B – instead, they are a way of life. Unfortunately, even the most careful riders can be seriously injured or even killed by the negligence of the car and truck drivers who share the road. If you've been injured in a bicycle accident, you have right to pursue justice, including financial compensation for your injuries and medical care.
Our founding Philadelphia bike crash attorney, Joseph T. Piscitello, has a unique understanding of the risks bicyclists face. As an avid competitive cyclist with 30+ years of personal injury experience, he knows how a serious injury can impact not just your ability to ride, but to work and live comfortably as well. When you retain our firm, we will work aggressively to get you fair compensation.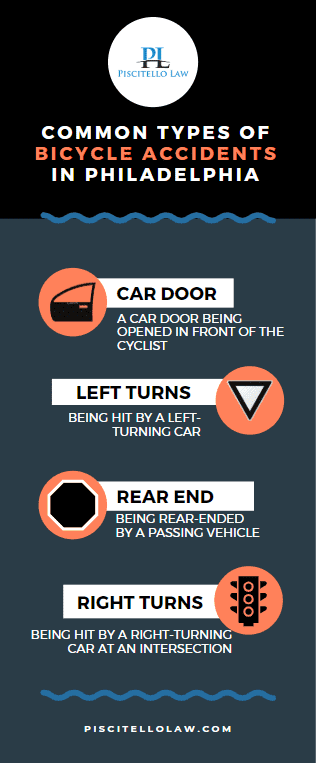 Common Bicycle Crashes in Philadelphia
Philadelphia is a busy city, and it is hardly uncommon to see bicyclists and car drivers sharing the road. While rides are typically uneventful, a single mistake made by a driver can have catastrophic consequences. Some of the most common types of bicycle accidents in Pennsylvania include, but are not limited to:
Cars turning left are some of the most dangerous, commonly referred to as "the left cross." In these accidents, a car attempts to make a left turn in front of an oncoming cyclist, and either strikes the bike from the side, or causes the rider to crash into the side of the car.
A door opening in front of you is one of the scariest sights for a bicyclist, as there is often little time to react. When exiting cars, people rarely look for oncoming cyclists behind them. When they open their doors without looking, serious injuries can result.
Car turning right accidents typically occur when aggressive drivers cut off the cyclist while turning right at an intersection. This can happen while riding at a high speed, but can also happen when the light changes at an intersection. These accidents are notoriously difficult to avoid.
Rear end collisions are less common than many cyclists think but are still incredibly dangerous. These accidents often occur at night when visibility is low, but may also occur when an aggressive driver tries to pass a cyclist without leaving much room.
Call
(215) 372-8768

Today To Seek Justice

Serious injuries are never easy to deal with, but it is particularly frustrating when they are caused by the negligent or reckless actions of another. You have a right and an obligation to hold drivers accountable for the injuries they cause, and you deserve fair financial compensation for medical bills, rehabilitation costs, lost income, and more.

At Piscitello Law, our Philadelphia bike crash lawyers are dedicated to the interests of injured cyclists and their families. When you retain our firm, we will provide the effective, trial-tested representation you need in these complex claims. Do not settle for less than you deserve – pursue full and fair compensation with help from Piscitello Law.

We have extensive experience with bicycle crash cases. Contact us today to learn firsthand what sets our firm apart. Call (215) 372-8768 today to start your bicycle accident injury claim.