About Piscitello Law
Representing the Wrongfully Injured for 30+ Years
As the founder of Piscitello Law, Attorney Joseph T. Piscitello has handled and assisted in thousands of personal injury matters. This experience has ultimately led our firm to be extremely comfortable in handling the legal implications of many serious injuries. The key to handling even the most complex matters rests upon our attorneys' willingness to invest in the brightest experts available in the medical and engineering world.
For these reasons, several established law firms entrust their most important personal injury clients to our expertise. In fact, in over 30 years of practice, Piscitello Law clients have developed strictly from previous clients and referring law firms and other attorneys.
Learn more about our team:
Why Hire Piscitello Law?
At Piscitello Law, our legal staff is acutely aware of the tremendous strain and anxiety often caused after being involved in a major accident. Although we are based in Philadelphia, our clients are not required to travel to meet with our personal injury attorney. We often travel to your residence or place of work in order to facilitate the process of establishing a good working relationship and gather important accident related information.
Accidents disrupt lives and there is no need to add another layer of inconvenience. Every case gets our lawyer's undivided attention and clients never get pushed off to associates or junior attorneys to handle the smaller aspects of a case. In our practice there are no small parts to any case.
What our clients are saying:
"…Sir, your impact on my life has been so beneficial as to leave me without a proper adjective. I appreciate your work, I appreciate your treating me as a person, not a case. And I appreciate your friendship and hope I am able to live up to the standard you have set. Thank you Joe, you're a good man..."
-Shawn
Full-Service Legal Support
Our skilled staff handles all aspects of your personal injury claim or lawsuit:
Investigating the circumstances of your accident
Interviewing witnesses and collecting evidence, including police and medical reports
Explaining your legal options
Answering your questions and concerns
Creating a legal plan that best aligns with your needs and goals
Leadership in Cycling Community
Attorney Joe Piscitello is actively involved with Philadelphia's cycling community both professionally and personally. His advocacy and support of the cycling community has been recognized by the Bicycle Coalition of Philadelphia on several occasions.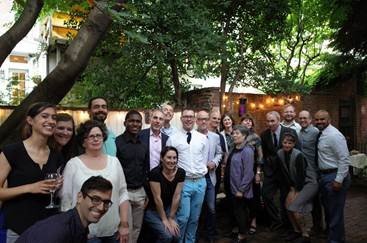 Piscitello Law hosts party to honor Cadence Youth Cyclist on Gates Scholarship award (July 2016)
Piscitello Law is a featured Paceline Supporter and is recognized by the Bicycle Coalition of Philadelphia for his support and expertise. The Coalition recognizes individuals who make our region a better place to bike through their own private philanthropy.
Attorney Piscitello also serves on the Advisory Board of Bicycle Coalition of Philadelphia's Cadence Youth Cycling Program—a program dedicated to "fostering healthy habits, independence, and leadership" in our city's students.
Piscitello Law supports and hosts local events for our cycling community, like the July 2016 Jeremy Powers Cyclocross Clinic. Joe is often a featured speaker including a local cycling forum with SPOKE magazine members in the summer of 2016. Additionally, he was a featured speaker on the Philly Bike Coalition podcast in July 2016 during which Attorney Piscitello covered a wide range of topics relevant to local cyclists. Join us and listen to the podcast here.
Our Greatest Reward
The most rewarding aspect of our job is handing clients' a recovery check and expressing our gratitude for their trust. Clients often endure significant and chronic pain as a result of their accident and that stress is compounded by significant medical expenses which many clients don't have the funds to cover. When we are able to provide individuals with a substantial recovery, they are immensely grateful to have the buffer of funds to cover future medical expenses caused by their accident.
Philadelphia County
234 Delancey Street
Philadelphia, PA 19106
Map & Directions [+]
Montgomery County
523 Swede Road
Norristown, PA 19401
Northhampton County
44 N. 2nd Street
Easton, PA 18042