Piscitello Law thanks founder Ross Willard for our visit and tour of the newest facility. Kudos to the staff, volunteers, and supporters of this organization who nurture a healthy bike culture and community, one bike at a time.
What is Recycle Bicycle?
Recycle Bicycle is a non-profit organization located in Harrisburg PA, that fixes old or damaged bikes for those who need them most. The group works to promote bicycle safety and teaches the bicycle repair trade within a mentoring environment. Recycle Bicycle provides a valuable outlet for many at-risk groups, including those who recently left prison, drug treatment centers, and for the youth of the local neighborhoods.
In conjunction with the national BikeBike! organization, Recycle Bicycle works within a network of non-profits, who together better our communities by making them bike- oriented. Despite countless obstacles non-profits face, coupled with unique issues created by the Covid pandemic, Recycle Bicycle has persevered with no plans to slow down.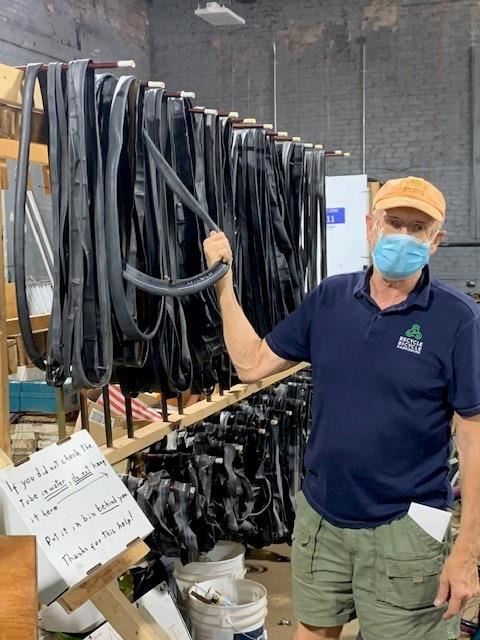 Ross Willard, Founder
History of Recycle Bicycle
Nearly 20 years ago a newly retired railroad worker, Ross Willard noticed a lack of safe bike conditions in downtown Harrisburg and decided to act. What started as fixing brakes on the sidewalk for a very grateful young cyclist, soon evolved into a service that would be sought after by families and individuals alike.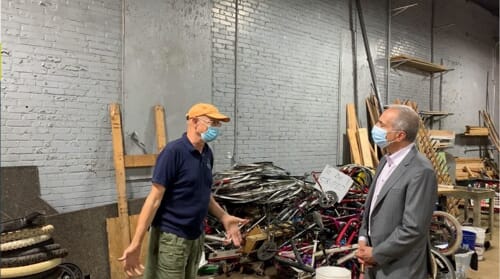 As the demand for bicycle repair services increased, so too did the scale of the operation. Ross Willard progressed from owning a toolbox to a mobile repair vehicle and finally to an operational building. The building which now houses the group is the fifth building the organization has occupied as rapid growth and demand has pushed them forward.
How does it work?
Recycle Bicycle developed a strategy which combines volunteer work with incentivized community engagement. While a few key members oversee logistics and provide mechanical expertise, it is powered also by those seeking bike-related products or those wanting to learn a technical skill. As the bikes are fixed and inspected, they are given to those who need them most. The distribution of bicycles goes to a wide range of people; those who live locally, around the country, and even outside of the continent via shipping containers of bikes going as far as Africa.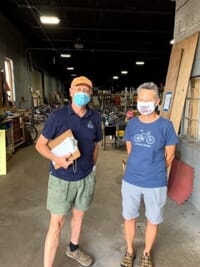 A job for everyone
Anyone who comes to Recycle Bicycle is given the option to work at a rate of $10 an hour towards purchasing a bike or bike-related products from the inventory of their choosing. Those who are struggling to find a job can learn a skill by working there, while also earning a bike or a bike-related item. This model creates an incentive to get involved and teaches valuable skills while building an inventory of bikes for those who are most in need.
Safety First
While the organization has expanded greatly, the goal of improving bicycle safety has stayed central and is reflected in everyday operations. Recycle Bicycle teaches safe bike practices in addition to the services it provides. Safety is stressed throughout the repairs as different staff members oversee and verify no compromises in safety are being made. If someone brings in a bike for any sort of repair or tune-up, Recycle Bicycle ensures that they do not leave without tested brakes regardless of their original request. For the members who volunteer, providing knowledge around safe cycling practices is just as important as providing the service of repairs.
Supporting Recycle Bicycle
Currently housed in a 10,000 sq. ft. warehouse in downtown Harrisburg, the group is, after almost 20 years of expansion and hurdle jumping, in a place where they can keep up with community demand. While this recent move into the building is a testament to the support and value of the group for the community, there is still much to be done, and Recycle Bicycle is ready to meet the task. The recent purchase and rehabilitation of the building have depleted much of the accumulated funds behind the group, and they are actively accepting donations.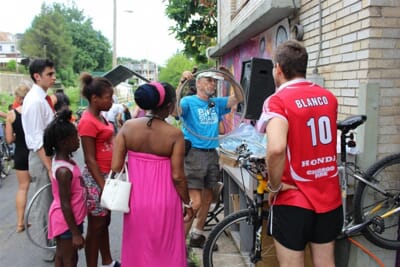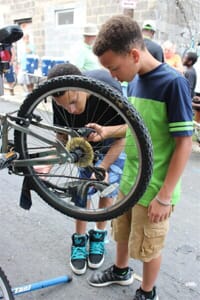 ​
Piscitello Law was happy to contribute to Recycle Bicycle's work and hope that those who read this post will be inspired to contribute to their important efforts. Read more about their work here.