Attorney Joseph T. Piscitello
Founder of Piscitello Law
Attorney Joe Piscitello is the founding principal of Piscitello Law and brings 30+ years of experience as an attorney in the Delaware Valley region. He has successfully handled thousands of legal cases in Pennsylvania and has litigated issues in the U.S. Court of Appeals.
He serves as a Judge Pro-Tempore in the Philadelphia Court of Common Pleas and uses his legal skills and experience to help attorneys find effective legal solutions to complex matters of the law.
Over the last decade, Joe has specialized in the field of cycling law and has represented cyclists involved in catastrophic and common bike crashes. In August, 2017 the attorney was invited to join the prestigious Bike Law Network which currently includes 18 attorneys serving the United States and Canada. Joe now represents Bike Law Pennsylvania in addition to Bike Law New Jersey.
An Advocate for Cyclists
Joe is also a competitive cyclist and has been racing for the past decade. He won the Masters 45 plus PA State Criterium Championship (2013) and the Masters 55 plus PA Cyclocross Series Championship (2015). In addition, he placed top ten in the Masters National Championship 3 times.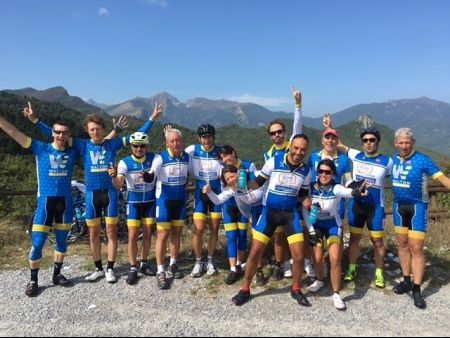 Walton Endurance Coach Joe and corporate cyclists in Stand Up to Cancer Ride
(Europe, 2017)
Cycling Memberships
Active Member of the regional cycling community
Cadence Youth Cycling (CYC), Mentor and Advisor
Honors & Awards
Recognized Top "Paceline Supporters" by The Bike Coalition
Sponsorships
PA Masters and Fearless Femme
title sponsor of two cyclocross races for the past six years

Cooper River Cross
West Chester Cross Classic
Attorney Piscitello uses his competitive nature and commitment to excellence to provide quality legal assistance to injured clients.
Contact Piscitello Law today at (215) 372-8768 if you've been injured. We offer free initial case evaluations to help.
Associations
Pennsylvania and New Jersey Bar Association
Pennsylvania Association for Justice
International Bike Law Network: Attorney for Bike Law PA and Bike Law New Jersey
USA Cycling Association
Advisory Boardmember, Philadelphia Bicycle Coalition's Cadence Youth Cycling Program
Cycling Coach & Group Leader, Walton Endurance
Founding Member, Psychology Honors Society, East Stroudsburg University
President, Honor Society, East Stroudsburg University
Awards
Paceline Supporter of Bicycle Coalition of Philadelphia 2015
Outstanding support Award from Cadence Youth Cycling Program, 2012 and 2014 (Philadelphia, PA)
Masters 45 Plus State Criterium Champion for Pennsylvania in 2013
Top Ten at Masters Nationals Cycling Championship (Criterium & Cyclocross)
Pennsylvania State Cyclocross Champion (2015)
Education
J.D. Thomas M. Cooley School of Law, Michigan (1987)
B.A., Philosophy & Psychology, East Stroudsburg University, PA (1983)
Additional Resources
Looking for more information about Attorney Piscitello? You can visit the following sites for featured information, as well as personal reviews left by some of his previous clients!