Vehicle manufacturers in the United States have designed vehicles with a priority to make them safer for vehicle drivers and to improve the survivability of a crash. Additionally, auto consumers in America have continued to shift the demand for larger vehicles.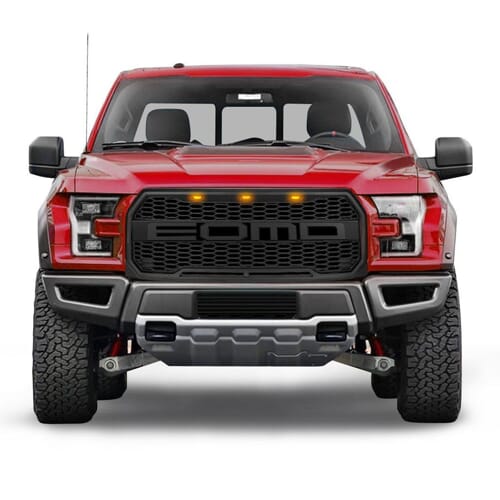 A Consumer Reports industry analysis notes that the weight of pick-up trucks increased 24% from 2000 to 2018. They also note that the front edge of the hood of heavy-duty trucks like the Ford F-250 are now 55 inches higher off the ground.
There is a perceived (and real) benefit to driving a vehicle that is designed to be larger. The Insurance Institute for Highway Safety, asserts that: "A bigger, heavier vehicle provides better crash protection than a smaller, lighter one, assuming no other differences."
What about the crash protection and survivability of others?
Auto design, size, and weight have a significant impact on the outcome of a vehicular crash involving our most vulnerable road users (people who walk, bike or roll). Those factors, along with speed can determine whether a pedestrian or cyclist survives a crash with a truck like the Ford F150 Raptor pictured above.
Despite a decrease in vehicles traveling in 2020 during the COVID-19 pandemic, we saw a dangerous increase in the fatality rate of vehicular crashes. According to National Highway and Transportation Safety Administration (NHTSA), nearly 39,000 people died across the county in motor vehicle crashes in 2020, an increase of 7.2% from 2019. Pedestrian fatalities claimed 6,205 lives, the same tragic level as 2019, while cycling-related fatalities rose by 5%, taking 846 lives.

Thanks to current legislation under consideration in the House, we have a unique opportunity to address the mismatch in sizing of vehicular bumpers and hoods and to create new standards.
INVESTAct, HR 3684 was introduced in the House at the beginning of June 2021. Recently, Rep Chuy Garcia (D-Il) introduced amendment 51 which JUST PASSED and is now part of HR 3684! The amendment requires the NHTSA Administrator to create standards for hoods/bumpers that prioritize the survivability of vulnerable road users. Vehicle manufacturers will also be required to design and build cars, trucks, and busses with the safety of pedestrians, cyclists, and people using other modalities.
Imagine that, designing a vehicle so that other folks survive a crash.
This amendment to HR 3684 is a big win towards improving safety for vulnerable road users.
Background:
House: Transportation & Infrastructure Committee: INVEST in America Act
Introduced June 4, 2021, by Reps. Peter DeFazio (D-OR); Eleanor Holmes Norton (D-DC); and Donald M. Payne, Jr. (D-NJ)
$547 billion Surface Transportation Reauthorization bill
Includes "Fix it First" approach on highway construction: fix existing roads and bridges
Invest in public transit, rail, bike/pedestrian infrastructure
Invests $4 billion in electric vehicle charging stations
$3 billion to correct planning mistakes from the past (i.e. highways that disrupt communities)
Focus on equity and environmental justice considerations and funding
Encourages use of American components and seeks to create American jobs
Bill now modified to include Water infrastructure –
$715 billion, Surface Transportation and Water Infrastructure Bill
Senate: Enviro & Public Works Comm (EPW)
This Senate bill was Introduced in May 2021
Provides increased funding for transportation infrastructure and safe routes coordinators,
Improves safety and access, and requires outreach to rural school districts
The Bicycle League provides an excellent analysis and overview of the Senate bill here, along with a statement from Executive Director Bill Nesper:
"…The Senate Environment and Public Works Committee's bipartisan Surface Transportation Reauthorization Act of 2021 makes a critical investment in safe streets for everyone," said Bill Nesper, executive director of the League of American Bicyclists. "The bill's proposed changes to the Transportation Alternatives program will make it easier for local governments to build bike lanes, sidewalks, and trails, plus new language on the safety of vulnerable road users puts a desperately needed focus on reducing fatalities and serious injuries among people biking, walking, and using wheelchairs…"