Rock N Road Gravel Ride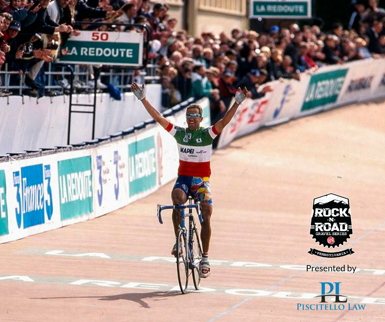 ---
Piscitello Law is honored to be title sponsor for a brand- new Gravel Ride set for November 3, 2019.
The new Rock n Road Gravel series includes three events, the first of which will be the Lehigh Valley Rock N Road taking place at Valley Preferred Cycling Center in Breinigsville, PA. The second Gravel Ride takes place at the New Jersey Pine Barrens and is set for Spring 2020. Stay tuned for info about the third Gravel Ride in this new series.
Our celebrity cyclists feature Italian former pro-cyclist Andrea Tafi whose career wins include the Tour of Flanders and Paris- Roubaix along with Laura Van Gilder, World Cyclocross Champion and Olympian Bobby Lea. The ride will include mixed surface roads with a 50 km and 100km option and a finish on the Trexlertown Track.
The event will be produced by g4 events, a woman-owned event planning and production company. Co-Founders Robin Morton and Alice Armstrong have a track record of 30 years of major event production including the Philadelphia International Cycling Classic. https://g4events.com/
Registration for the event is $65. The exclusive VIP registration package, for $200, also includes a custom Rock N Road jersey, early packet pick- up, and a ride with Andrea Tafi.
A percentage of all registration fees will support youth mountain biking in Pennsylvania through the Pennsylvania chapter of the National Interscholastic Cycling Association. For more info about the great work by our friend and Executive Director, Mike Kuhn, please visit http://www.pamtb.org/
Bike Shops & Advocacy Groups
At Piscitello Law, we strive to provide accurate and current information related to Philadelphia and New Jersey's robust cycling communities. We are lucky to have a number of bicycle shops and advocacy groups locally available to cyclists in need of repairs and assistance.