Bicycle Coalition Youth Cycling
Piscitello Law has been an active supporter and mentor to the Bicycle Coalition's Youth Cycling (BCYC) program since the early days of inception. BCYC is a dynamic program that helps young people (12 – 18) create positive life change opportunities through cycling. The program includes critical opportunities off the bike as well, such as tutoring and assistance with college applications. Many BCYC students who complete the program go on to pursue college and other professional endeavors. We are continually impressed with this program that has evolved over the years. The student athletes are incredibly well spoken, committed to the sport, their community, and a healthy future ahead.
The Early Days of The Cadence Cycling Program
The original program was called Cadence Cycling Foundation and was created thanks to the leadership of Jay Snider and Ryan Oelkers in 2007. In 2013, the Cadence Cycling Foundation merged with the Bicycle Coalition of Philadelphia. Some of the ways that we supported this team during their early years:
Piscitello Law hosted party to honor athlete Allen Williams who won the Bill & Melinda Gates Millennium Scholarship (June 2016). Photo below.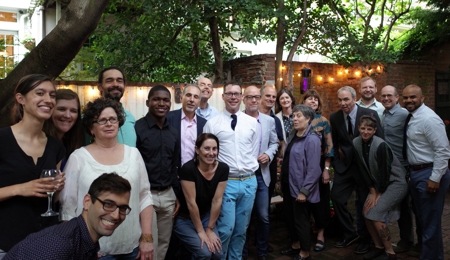 Joe Piscitello served on Advisory Board of Cadence Cycling Foundation. Provided legal services and reviewed procedures to improve safety of athletes before and after a crash. Also collaborated to expand their reach and exposure. Below is an image of Joe and a Comcast initiative to support the youth program (2017).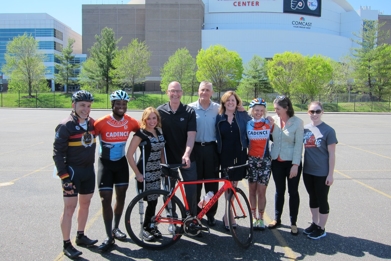 Piscitello Law was the Presenting Sponsor of a Jeremy Powers Cyclocross Clinic to support the Cadence Cycling Program (July 2017). Jeremy led a cyclocross clinic starting at the Sly Fox Brewery. In the evening, we hosted a Q&A session at Firth & Wilson. More info here.