Vision Zero
Piscitello Law Moderates Best Practices Panel: 2018 Vision Zero Conference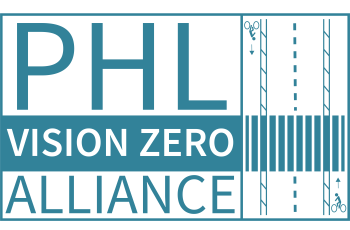 Piscitello Law is pleased to share highlights from the third annual Vision Zero conference, held March 17 in West Philadelphia. The event was hosted by Philadelphia Bicycle Coalition and opening remarks by the Executive Director Sarah Clark Stuart encouraged 250 participants to "…listen, learn and be inspired…"
Mayor James Kenney set the tone in his keynote address by affirming his Administration's commitment to bring traffic- related crashes in Philadelphia from 100 per year to 0 per year by 2030. He went on to announce a pilot project to address some of the core issues underlying traffic crashes including speed and street infrastructure.
The nine- month pilot set to begin in the Spring of 2018 will involve Market and JFK Boulevard, between 15th and 20th streets. The current four lanes of traffic will be reduced to three as one lane will become a protected and dedicated cycling lane. This pilot is a huge victory for pedestrians of all ages and cyclists throughout the city. Data gathered from this pilot will inform future Vision Zero initiatives in Philadelphia.
Later in the morning, Attorney Joseph Piscitello led a panel discussion on Best Practices of Vision Zero in the United States and Europe. Drawing from his own personal and professional experience as a cyclist and attorney, Joe discussed the need for greater education and awareness of vulnerable road users by members of the legal community, including law enforcement and attorneys. He shared a cyclist's video showing a bike-car crash when a motorist turned right without using a blinker or checking for cyclists. Many audience members were visibly shocked to learn that the legal system found the cyclist to be 50% responsible for the crash.
Joe proceeded to present each of the five speakers on the panel who touched on the core principles and best practices of Vision Zero, including Engineering, Education, Evaluation and Equity. The panel included two city council members; Helen Gym from Philadelphia and Mary Chey from Washington, D.C. Seated in 2016, Philadelphia's City Councilmember Gym leads a new initiative to revitalize public transit in Philadelphia, bringing a focus on racial equity. She discussed a visit to Copenhagen to study their multi-modal transportation systems and noted the comprehensive shift of focus present in that city; from car-centric to people-centric.
Councilmember Mary Chey of Washington D.C. shared that her city has plans to eliminate traffic crashes to zero by 2024, which is an even more aggressive city plan than Philadelphia. Chey has served on the Council since 2007 and is currently Chair of the Committee on Transportation & the Environment. She spoke to her city's extensive use of cameras to reduce speeding. Indeed, D.C. has red-light cameras; speeding cameras and even stop-sign cameras.
William Armbruster representing the AARP spoke to the issues surrounding transportation and aging members of our communities. Bill discussed mobility challenges facing older adults when crossing a multi-lane road within the time limit of a traffic light. According to his organization, many older adults fear for their safety on the road which leads to more time spent indoors, in isolation instead of staying involved in their community.
The critical issue of science-based evaluation of transit initiatives was the focus of Steven Suggitt's presentation. Steven is an executive of Miovision, a Canadian-based analytics company. The firm designs multi-modal transportation solutions using Artificial Intelligence and Machine Learning video analytics.
He made a compelling argument on the merits of using motion-sensors in video surveillance on streets to better understand both "Compliance" and "Near Misses." Compliance monitoring captures data related to how well and how often road users follow the rules of the road. For example, their analytics can quantify the percentage of drivers and cyclists who run a red light or fail to yield to pedestrians/cyclists. Their system can also be used to capture data related to the "Near Misses" so that city planners have data to quantify the number of averted crashes.
Joe introduced David Shephard as the final panelist for the morning session. For David, safe transportation is not just a public policy issue, but is deeply personal. David created "Families for Safer Streets" in New York city after losing his Fiancée Sonya Powell to a speeding driver in 2009. He presented how cities and families can "Turn Grief into Action" which underlies the compassionate work of his organization; to support families impacted by unsafe roads and to advocate for change. As David's presentation concluded, there was a palpable energy in the room; we were reminded of the tragic cost of unsafe streets and the urgency to make change NOW.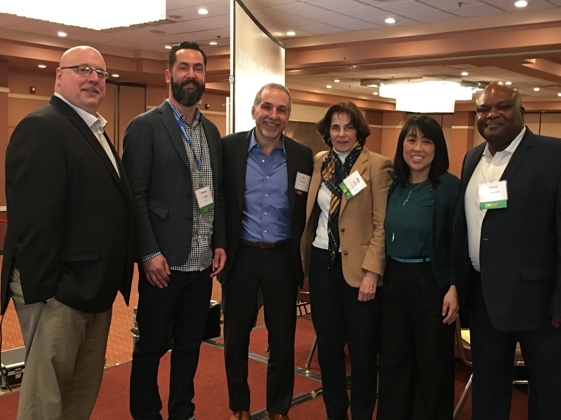 (L-R: Bill Armbruster (AARP); Steven Suggitt (Miovision); Joe Piscitello (Piscitello Law); Councilmember Mary Chey; Councilmember Helen Gym; David Shephard (Families for Safer Streets NYC).
History of Vision Zero
Sweden Takes the Lead
Vision Zero first began as a national policy in Sweden in 1997. The Swedes developed a strategy to eliminate all traffic-related deaths and severe injuries by 2020 – and adopted that strategy into law. Due to their forward thinking, Swedish roads are considered some of the safest to travel in the world; traffic- related deaths have dropped by 30% since they began VZ. Many other countries within the European Union have adopted Vision Zero laws and policies.
Slow Start by the U.S.
In contrast to our European friends, the United States has lagged in the race to make our roads safer for vulnerable users such as cyclists, pedestrians, construction workers, etc. In the absence of a national law, cities across the U.S. are adopting city-centric Vision Zero initiatives and laws to improve underlying issues of transport safety.
Chicago was the first U.S. city to adopt its own Vision Zero-type initiative in 2012 when it passed a law calling for zero transport deaths in 10 years. Two years later, four other cities adopted VZ action plans, laws or developed a task force (San Francisco, New York, Austin and Los Angeles). By 2016, Philadelphia joined this group of early adopter cities when they launched their own Vision Plan Task Force.
Philadelphia's Need for a Plan
The need for a city-wide plan in Philadelphia remains significant; every year residents sustain more than 10,600 traffic crashes killing almost 100 individuals and injuring 300. Compared to peer cities with established Vision Zero policies, Philadelphia has one of the highest rates of traffic-related deaths per 100,000 residents. Every 5 hours, a driver hits a person walking in Philadelphia.
Tragically, for the family of Shien Ching Shen, their beloved grandmother became another life lost. Shien, a 79 year-old Philadelphia resident was killed while walking across Roosevelt Boulevard and dragged 120 feet (November 14, 2017). Two weeks later, on November 29th, a 24 year- old cyclist, Emily Fredericks was killed on 11th and Spruce street while cycling in the bike lane. A private trash truck struck this young woman while taking a right-hand turn. No one deserves these tragic outcomes when out walking or cycling.
Vision Zero History in Philadelphia
Signs of change began to take hold in 2015 thanks to the "Better Mobility Working Group" led by the Bicycle Coalition of Greater Philadelphia (BCGP). The group successfully put the issue of safe streets into the debates of the 2015 Philadelphia Mayoral Race.
This group would eventually evolve into the current Vision Zero Philadelphia Alliance, also led by BCGP. By November 2016, Philadelphia Mayor James F. Kenney signed Executive Order 11-16 creating a Vision Zero Task Force and set a target of zero traffic-related deaths by 2030. By March of 2017, the VZ task force launched its website and a three- year Draft Action Plan. The plan relies on data to identify areas of high injury and communities with limited access to safe roads and transport. Also addressed are engineering and street infrastructure issues which affect safety. The plan includes components of education and enforcement of new laws. You can read the plan here.
The Vision Zero Alliance is led by Bob Previdi at BCGP and includes organizations such as AAA, AARP, Clean Air Council, Jefferson Hospital and the African American Chamber Commerce. The Alliance is working towards a March 17, 2018 conference during which they plan to take stock of action items and target goals set forth in the three- year Action Plan.