In a vote of 47-1 by the Pennsylvania Senate last month, SB 172 has passed and headed to the Governor's desk to be signed into law. The bill legalizes automated speed cameras along Roosevelt Boulevard in Philadelphia and in work zones throughout the entire state.
Roosevelt Boulevard is considered the deadliest street in the city, resulting in 10 to 13 percent of Philadelphia's road deaths every year. So far in 2018, approximately 14 people have already been killed along this road.
For years, members and supporters of the Vision Zero Alliance and the Philadelphia Bicycle Coalition have advocated for the installation and use of automated speed cameras. These devices are proven to be an unbiased solution in deterring speeding along and near streets known for a high number of traffic-related injuries and deaths.
When a speeding motorist drives past a speed camera, he/she will receive a ticket and a picture in the mail of himself/herself committing the violation. Streets equipped with these cameras have changed the culture, causing motorists to slow down to avoid getting a ticket. Additionally, money from these tickets does not go into the general fund. Instead, new funds will be spent on street safety improvements.
In the photo below, Latanya Bird addresses a group assembled to support the speed camera bill. Community and lobbying efforts were formed soon after her niece, Samara Banks and her three sons were tragically killed on Roosevelt Boulevard in 2013 by speeding vehicles.  
Joe Piscitello has been actively involved in lobbying efforts in Harrisburg to get this bill passed and has worked with members of the growing Philadelphia Vision Zero Alliance, led by Bob Previdi.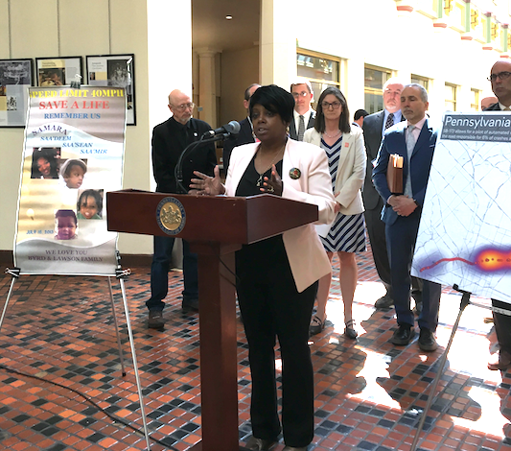 Latanya Bird promotes the Speed Camera bill and remembers her family members killed in 2013.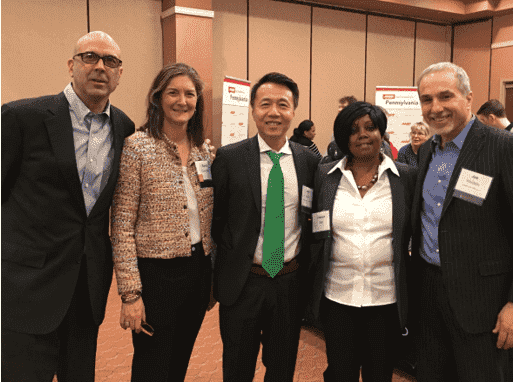 (L-R)
Bob Previdi (Coalition); Sarah Clark Stewart (Coalition); Dr. Ivan Cheung (National Transportation Safety); Lataya Bird; Joe Piscitello  (March 2018 Vision Zero Conference)
For more information about SB 172, contact our Philadelphia bicycle accident attorney at Piscitello Law.