One positive outcome of the global pandemic is a resurgence of people using bicycles.
The increased demand is rooted in several factors: cycling is a "safer" alternative to public transit; cycling enables people to be outdoors for exercise, recreation, and commuting while safely social distancing. The Dutch e-bike company, Van Moof reports a sales surge of 138% in the United States, and 184% in the United Kingdom, according to CEO, Taco Carlier. More on e-bikes here.
Additionally, cities across the world are boosting up their street/road infrastructure to encourage and accommodate more cyclists on the roads. Milan's "Strade Aperte" is an ambitious plan to expand open roads even after the pandemic. The northern Italian city has reclaimed 22 miles of roads and converted them into open streets for safe cycling and pedestrian areas. Open streets are making headlines in cities as diverse as Bogota, Columbia to Berlin, Germany.
Given the increase in both car-free roads and cyclists, coupled with a decrease in motor vehicle traffic, one might assume that the roads would become safer. In fact, a 2005 study by a California public health expert, Peter L. Jacobsen, studied the relationship between the volume of cyclists on the roads and the incidence of crashes. His study involved the United Kingdom and the Netherlands, two cities that were experiencing a surge in cycling at the time. Interestingly, his study found that the number of crashes decreased with the higher volume of cyclists. Jacobsen went on to label this correlation as the "safety in numbers" phenomena.
In 2013, the Organization for Economic Cooperation and Development (OECD) studied the relationship between the number of cyclists on the roads and the incidence of crashes. Their findings seem to support Jacobsen's earlier theory from 2005. The OECD graph below visually reflects that the fatality rate for cyclists, seems to be lowest in countries having the highest number of cyclists on the road (The Netherlands). Inversely, the country with the highest cycling fatalities (the U.S.) also had the lowest volume of cyclists on the road. OECD report here.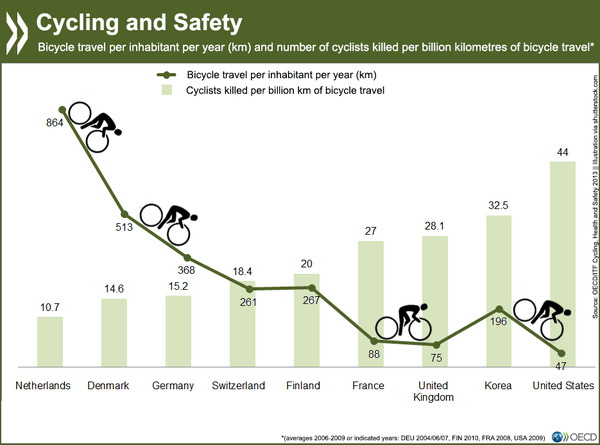 Source: OECD, Cycling Health and Safety 2013
Why, then, in 2020 are we seeing a dangerous spike in cycling fatalities?
In Philadelphia, we lost four neighbors and community members within a 30- day period, beginning on June 21, 2020 with the death of 17 year- old Sam Ozer. Nadir Nafis Holloman Jr. was killed on a road known for speeding-related fatalities and William Lindsay was killed in a hit and run crash. Most recently, 64 year- old Michael Hackman was killed while cycling in a semi-rural road just outside of Philadelphia.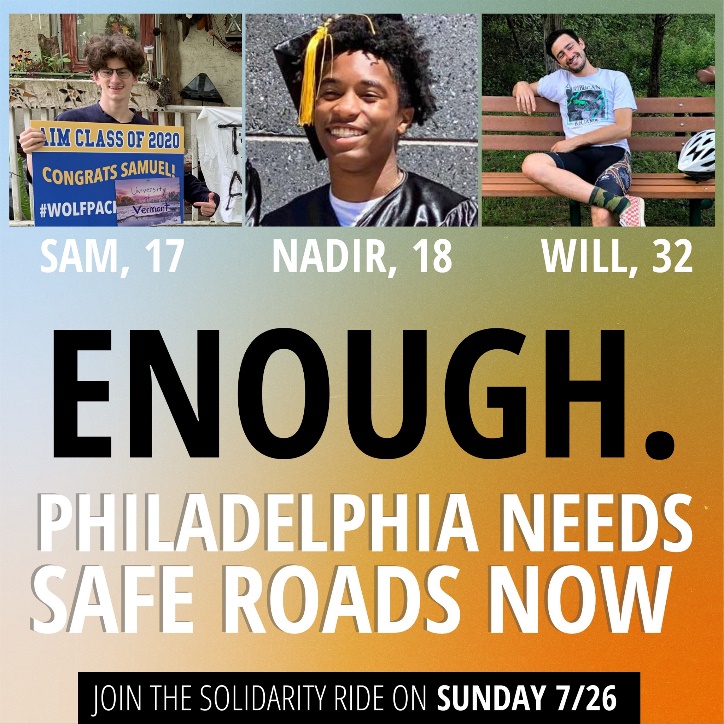 Source: Bicycle Coalition of Greater Philadelphia, July 2020
What happened to the safety in numbers phenomena?
Other cities in America are experiencing similar increases in cycling and pedestrian clashes during the pandemic. Multiple components are to blame, including vehicular speeding. Despite having fewer cars on the roads, many drivers are speeding. Also, we have the issue of large SUV-type vehicles on the road which are no match for a human body on a bicycle. Auto drivers continue to be distracted with added worries of economic and financial uncertainties. Unfortunately, Road rage is rising; Piscitello Law offices have seen an increase in the number of cyclists who have been intentionally hit on the road.
Now, more than ever before, cities and urban planners need to step up their investment of time and resources into making our roads safer. Advocates in Philadelphia have created a template and plan for our city to address underlying issues mentioned in this post. The plan, dubbed "Recovery Streets" outlines ways to create sustainable space for residents to safely walk and ride during the pandemic and beyond. We need to do better; these tragedies are preventable.