Bikes & Beer Events 2023: The Perfect Blend of Passion & Purpose
The wind in your hair, the hum of the wheels, and the taste of an ice-cold craft beer waiting at the finish line—could there be a more perfect combination? Piscitello Law is proud to announce our sponsorship of the Bikes & Beers events happening this year, and we're ready to dive into the exhilarating world where cycling and community converge.
Why Are We Sponsoring
At Piscitello Law, we have a simple passion: to see more people pedaling away on two wheels. Whether you're a seasoned cyclist or just discovering the joy of riding, these events are designed for everyone. This year marks our debut as sponsors for two remarkable events: the Philadelphia Bikes & Beer on October 1st at Yards Brewing Company, and the Cape May Bikes & Beer on September 23 at Cape May Brewing Company.
What makes these events truly special is their deep-rooted connection to the local community. They bring cyclists of all ages and skill levels together, sharing a common mission of having fun, enjoying the outdoors and making a positive impact. We're particularly excited that the proceeds from these events support outstanding organizations like World Bicycle Relief, amplifying the positive change these gatherings create.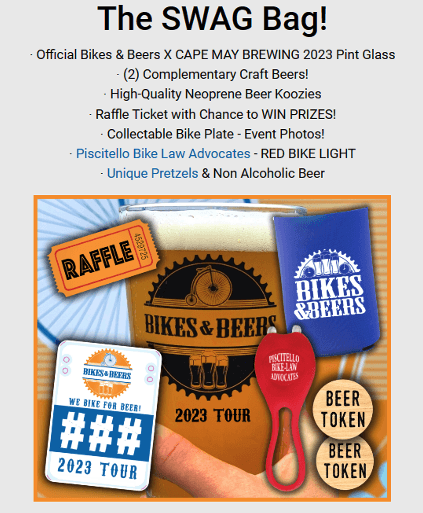 As part of our sponsorship, we're thrilled to be contributing to the official SWAG bags for both Philly and Cape May riders. Inside, you'll find bike safety lights and our signature Bike Crash Cards are also making an appearance, packed with essential information on staying safe while cycling.
The Bikes & Beers Story and Mission
The story of Bikes & Beers is a tale of passion turned into a nationwide movement. Founded by Sam Accardi while in graduate school in San Diego, the event series took flight in 2013. Sam, an avid cyclist, and his friends discovered the magic of concluding long rides with local craft brewery visits. Thus, the match made in heaven came to life. They recognized the need for better cycling infrastructure and partnered with Bike San Diego to launch the first Bikes & Beers event. A projected 100 riders turned into a whopping 700, setting the stage for the event's soaring success.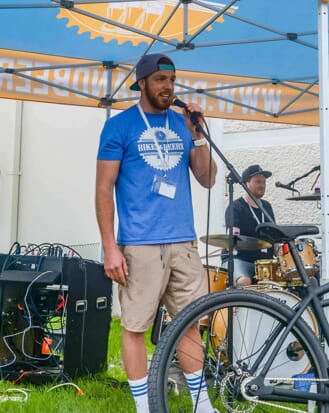 Fast forward to today, Bikes & Beers has evolved into the largest cycling event series in the United States, boasting 24 events in 2022. With venues ranging from Sierra Nevada to Harpoon, these events are a delightful blend of stunning landscapes, urban exploration, and delectable food and brews. At the core, Bikes & Beers events embrace a community-oriented spirit, designed to welcome participants from diverse backgrounds.
Sam Accardi, the visionary behind Bikes & Beers, aptly puts it, "As cyclists, we believe that nothing brings people and communities together like a weekend bike ride and a little social lubrication of a delicious independent craft beer."
The Mission Beyond the Ride
Bikes & Beers is about more than just the thrill of cycling. It's a mission to enhance cycling conditions across the nation. In 2022 alone, the event series donated over $85,000 to local cycling charities and advocacy groups, a testament to their commitment to better cycling policies, infrastructure, and programs. Their impact also extends to meaningful charity beneficiaries like the Cystic Fibrosis Foundation, World Bicycle Relief, and People for Bikes.
Join the Journey: Bikes and Beer Events 2023
The 2023 Bikes & Beers events span the entire USA, promising a road map of adventure, camaraderie, and scenic beauty. From coast to coast, cyclists of all kinds will gather to pedal, sip, and celebrate the joy of cycling. As Piscitello Law proudly sponsors these events, we invite you to be part of the journey. Mark your calendars for the Philadelphia and Cape May editions, and let's pedal together toward a brighter cycling future. For the full 2023 event schedule, click here. 
Biking, brews, and making a difference—it's the ultimate trifecta that Bikes & Beers embodies. Join Piscitello Law and cycling enthusiasts from across the nation as we ride with purpose, unity, and a shared love for the open road.